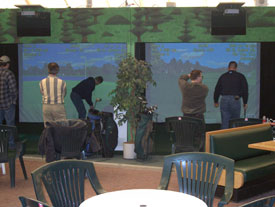 No need to travel south when you can play an outdoor golf course in a virtual environment at The Golf Dome. We offer five virtual golf simulators that will allow you to play over 50 of the most well known golf courses such as Pebble Beach, Banff Springs, Mauna Kea, Pinehurst #2, The Belfry, Harbour Town, and many more. It takes approximately 1 hour per person to play 18 holes. (Example: 2 people = 2 hours to play 18 holes)
Golf simulators are great fun and ideal for improving your game. Come and play the courses that the pros play on!
Click here for full course listing
Come alone or get some buddies together, grab a beer, and enjoy an evening of fun in our licensed virtual golf area! Reservations are not required, but suggested from November 1 – March 31.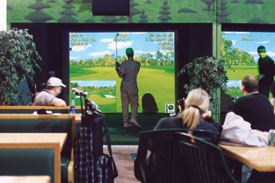 Winter rate (November 1 - May 31)
$0.50 per minute plus GST
Example: 1/2 hour = $15.00 / station (plus GST)


Summer rate (June 1 - October 31)
30% off regular rate, plus GST
Example: 1/2 hour = $10.50 / station (plus GST)